Description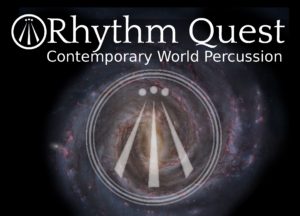 Presents….
Wood Stone, and Earth
April 28, 2018, 

7:00 – 8:30pm
Tickets:  $15 Adults  $10 Students
Spend an evening exploring time and energy as Rhythm Quest performs uniquely creative contemporary world percussion music. The trio will be performing music on a range of world percussion instruments including Frame drum, cajon, and jembe. Their innovative compositions draw on inspiration from the musical traditions of India, the AfricanDiaspora, the Middle-East, and contemporary jazz and classical music. Rhythm Quest seeks to engage and inspire, create and fortify bridges between and among diverse people through the power of rhythm and music.
Bio:
Rhythm Quest is an exploration of the mysteries of world percussion, rhythm, and the timeless practice of drumming that has been at the root of community solidarity, the vehicle for the visions of shamans, the source of trance and ecstasy in rituals and ceremonies, and the driver of personal evolution for musicians around the world and throughout history. Percussionists Julian Douglas and Michael Rutherford have been teaching, performing and composing world percussion music since the mid-1990's. Joined by Bezl Labonte they have performed and collaborated with musicians from nearly every continent.  
http://rhythmquest.net/