99 Names – Series 2, with Sheikh Ghassan Manasra
01/15/2018 @ 7:30 pm

-

8:30 pm

$15 – $120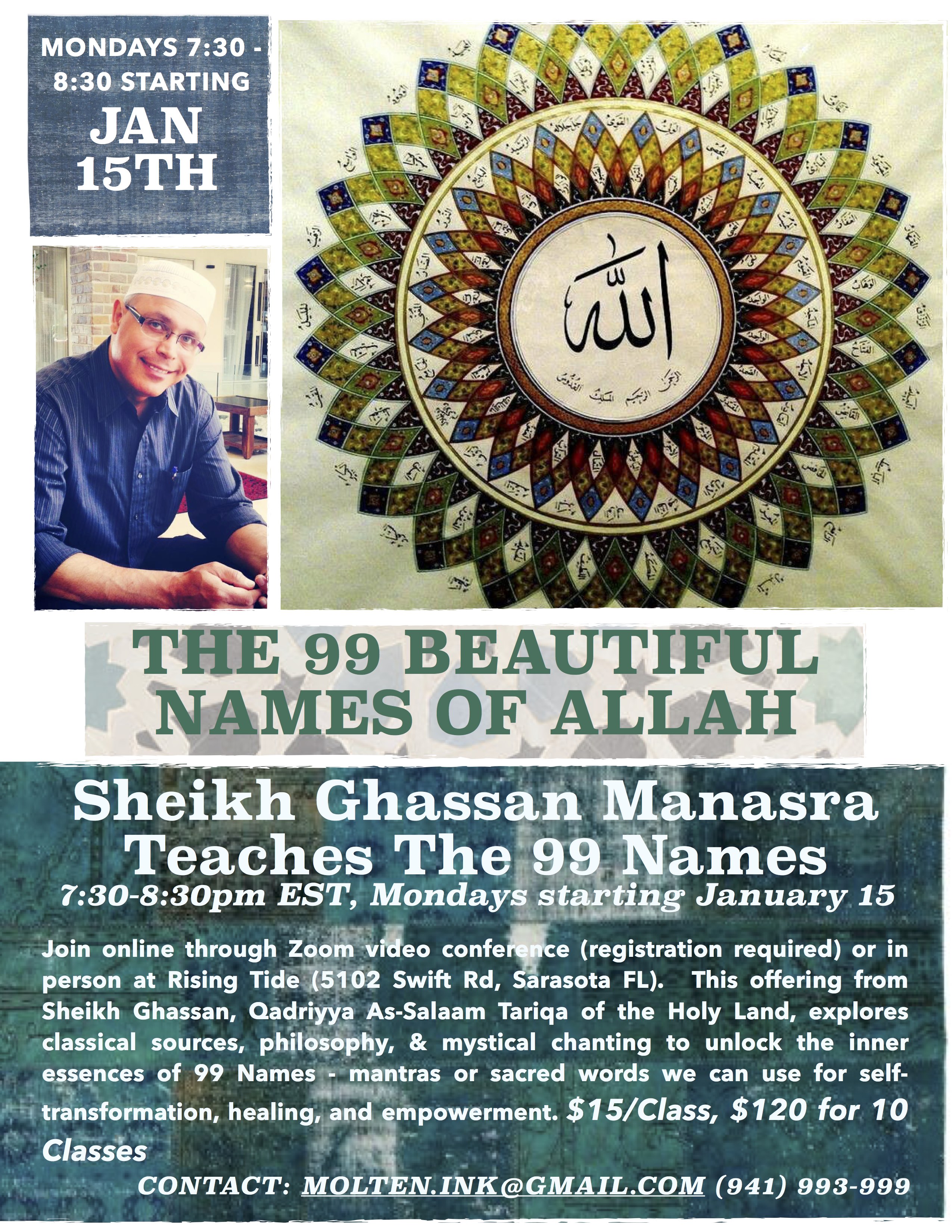 The 99 Beautiful Names of God
An online** (and in-person in Sarasota) Class with Sheikh Ghassan Manasra
**All classes will be recorded and available for those enrolled in the class or series to view when they are able to. 
Mondays, 7:30 – 8:30pm EST, Jan 15th – March 19th
In-person classes to be conducted at the house of Sheikh Ghassan Manasra, please register and RSVP to gerryscott@me.com for the Address location details. 
The 99 Names of God are sacred Arabic mantras (wazifas) found in the Qu'ran representing and unlocking the divine qualities of God.  Qualities such as The Merciful, The Compassionate, The Holy, The Powerful, and The Precious all hold antidotes to different blockages we have that keep us from being fully present, connected, and alive. By contemplating, reciting, singing, chanting, and meditating upon these Names we can transform ourselves to know and connect with the in-dwelling and all-pervading Divine Essence which is in our hearts.
Sheikh Ghassan Manasra brings these teachings alive through his Qadriyya As-Salaam Sufi Order teachings and his own living experience of the Divine as a Sheikh, through the Qu'ran and Hadith as an Imam, in the world as a Peacemaker in Israel and Palestine, and as a Mystic.
An Example – a teaching about Al-Haqq, the Divine Name of God which is The Truth
The meaning of Al-haqq is The Truth.  We commonly touch the Truth as a way of righteousness and being right – but here we will explore the Divine Truth and not only the Earthly Truth – not being right but right being. One meaning of Divine Truth is that God is the complete reality of existence and that God will be from the beginning until the end. We are the passengers traveling through space and time, and our traveling will be through the Haqq of God – the Truth of God – because God is the Truth of both place and time.  God can touch our feeling and our taste. By this Touch of God's Grace we can realize ourselves through the others and the others through ourselves, and from this connection divine Light will appear from our hearts and therein from the essence of the spring of knowledge.  By exploring, chanting, and contemplating the name Al-Haqq, we will become closer to the essence of what it means to be part of the Divine Reality that is God, and we can feel ourselves always connected to Him, to ourselves, and to that Truth. 
Sheikh Ghassan will impart teachings from many classical sufi sources that discuss the 99 names, and from the teachings of his Sheikh, Sheikh Muhammad Hashem Al-Baghdadi, the Grand Sheikh of the Qadiri Order in the Middle East, perspectives from Sheikh Ibn Arabi, and many other classical Sufi Mystics and Scholars.
This series will consist of 10 classes exploring one of the names of God each 1hr class, once per week, Mondays 7:30-8:30pm EST, beginning January 15th, held at Rising Tide International and also held online via Zoom.
Payment can be made to Rising Tide International at $15 per class. For 10 Class pre-payment, $120.
Location: Online via Zoom (invitations sent out to those who register)and in person at Rising Tide International, 5102 Swift Rd, Sarasota FL 34231
Facebook Group for Discussion & Video Archive: Contact gerry.scott@me.com for details
Contact: Chris Miller, 941-993-9994, chris@davidlesstours.com
Technical Support Contact: Shams Scott: Gerry.scott@me.com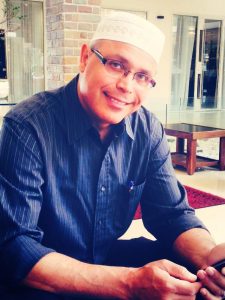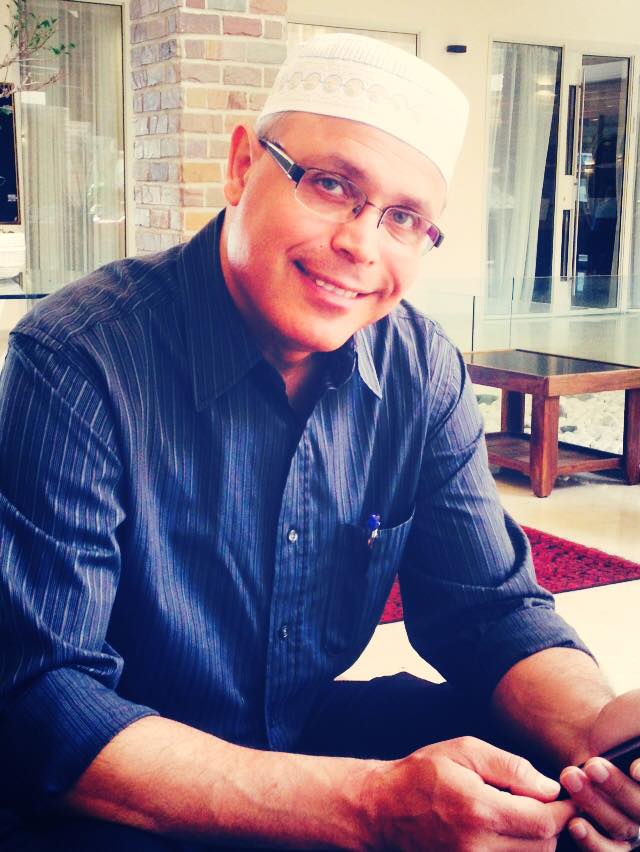 BIO
Sheikh Ghassan Manasra was trained by Sheikh Muhammad Hashem Al-Baghdadi, Head of the Qadiri Order in the Middle East, and was ordained a Sheikh by him while studying at his side for decades in East Jerusalem. He is both an Arabic and Hebrew Scholar, trained in interpreting the Quran, Arabic Poetry, Sufi Poetry and Philosophy, and particularly on Ibn Arabi's teachings. A former board member of the World Congress of Imams and Rabbis for Peace, he is the International Executive Director of the Abrahamic Reunion, a nonprofit dedicated to peacebuilding in the Holy Land and the world through interreligious dialogue, prayer, encounter, and solidarity.  He currently lives in Sarasota, FL.
Related Events