Sacred Circle w/ Water Protector Grandmothers Mary & Doreen
06/10/2017 @ 10:00 am

-

6:00 pm

$110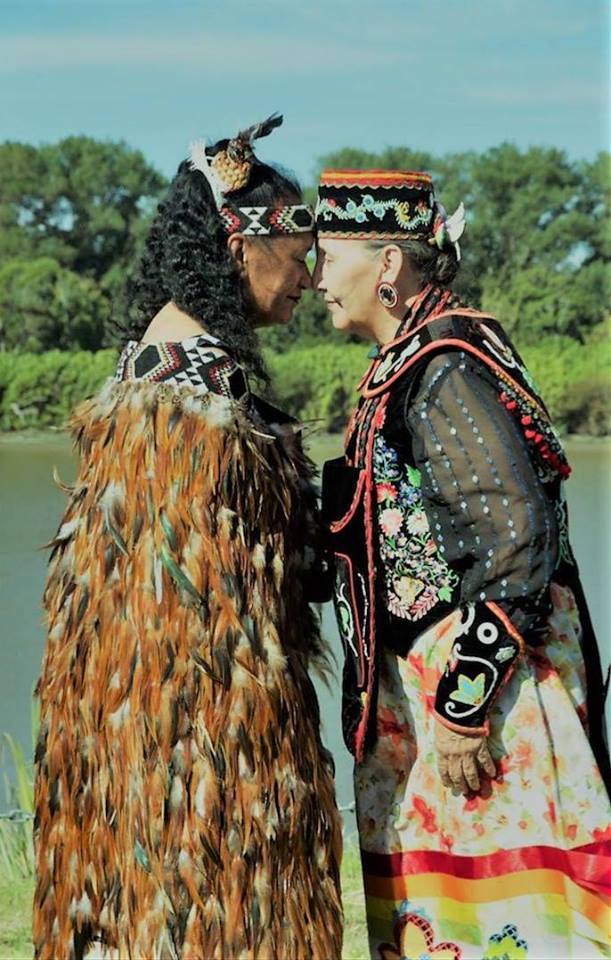 Sacred Circle with Grandmothers of the Sacred We
Great-Grandmother
Mary Lyons
(Ojibwe/First Nations) and Grandmother
Doreen Bennett
(Maori-Whanganui) are joining us for a special day of sharing, wisdom talks, stories, ceremonies, and connection.
Both are Water Protectors – both visited Standing Rock, and Mary is a Water Carrier in the Ojibwe Tribe, offering water ceremonies around the world wherever she goes. Doreen's tribe in New Zealand (the Whanganui) were just in March able to secure the rights for their sacred Whanganui River to be protected with the same rights to exist as a person.
The Grandmothers teach about the spirit of oneness, the connection between all living beings, the need to rise up and protect the sacred elements and all of life. They talk about the spirit of The We – how we must act in these times for the We, for seven generations.
Grandmother Mary is coming from Minnesota and Grandmother Doreen is coming from all the way in New Zealand – you don't want to miss these Grandmothers and the wisdom that they are gifting!
Join us to help make a difference!
Let's find solutions together so we can have a future for our children and future generations!
Includes lunch –  Wild Rice Soup – the Wild Rice is sacred to the Ojibwe people, it's their staple food called manoomin
BIOS
Grandmother Mary Lyons
Grandmother Mary Lyons, Ojibwe/First Nations Elder, Niizh-Nibi-Ikwe "Second Water Woman", Elder of Mitigwakk-Dawaygus-Giwstashskad "Water Drum Circle", Sr. Member of the "Top Hat Medicine Dress/Long Skirt Society", Spiritual Advisor, Story-teller, Wisdom Teacher. Grandmother Mary carries an intense professional portfolio, her contribution to the wellness of women and families stands at the forefront of her commitments in the areas of "talking circles, ceremonies, Vision interpretations, one-on-one Spiritual Guideance." Given the global challenges humanity faces in the 21st Century, Grandmother Mary is working hard as a UN Observer for Indigenous/Women's Rights, and is a member of the Global Indigenous Grandmothers of the Sacred We.
Doreen Bennett
Doreen Bennett, Maori Aotearoa, NZ. Traditional weaver, educationalist, indigenous Representative at UNPFII, Founder & Board Director Two Feathers IC, International Coordinator Indigenous Cultural Exchange Programs. It is important Indigneous peoples survive, intact with cultural knowledge, traditions, values, and languages for future generations. This is what defines us and connects us with our earth mother, with all life and with the spiritual beliefs we live by. These are the teachings and messages from our ancestors.
CONTACT
Jessica Bromby
and Akbar Chris Miller are hosting – please contact them to RSVP, to inquire about a scholarship, or for information.
Jessicabromby@gmail.com / 941-993-9994
LOCATION
Rising Tide International, 5102 Swift Rd, Sarasota FL 34231
Other Events with the Grandmothers in Florida:
– June 9th: Full Moon Water Ceremony, Sacred Circle, & Dinner at Shangri-La Springs, Bonita Springs FL
– June 10th: Sacred Circle for Healing & Connection at Rising Tide International, 10am – 5pm, Dinner Included, Sarasota, FL
– June 11th: Sacred Circle for the Earth  & Water Ceremony at Sacred Lands, 10am – 3pm, Potluck Lunch!, St. Petersburg, FL
– June 14th: Morning Water Ceremony at Crowley Nature Center, 7:30 – 9am, outside Sarasota, FL
– June 14th: Public Water Ceremony In The Park at Depot Park, TBA, Gainesville, FL
– June 17th: Water Blessing Ceremony with the Sacred Water Tribe & Interfaith Leaders, 8-10:30am, Delray Beach, FL
– June 18th: Sacred Circle with the Grandmothers at Jupiter Farms Pavilion, 10am – 3pm (potluck lunch), Jupiter Farms, FL
For more details on any of these events, please contact Akbar and Jessica molten.ink@gmail.com or 941-735-8352
Related Events