Winter Solstice at South Lido Beach State Park 4:30 pm.
12/21/2017 @ 4:30 pm

-

7:00 pm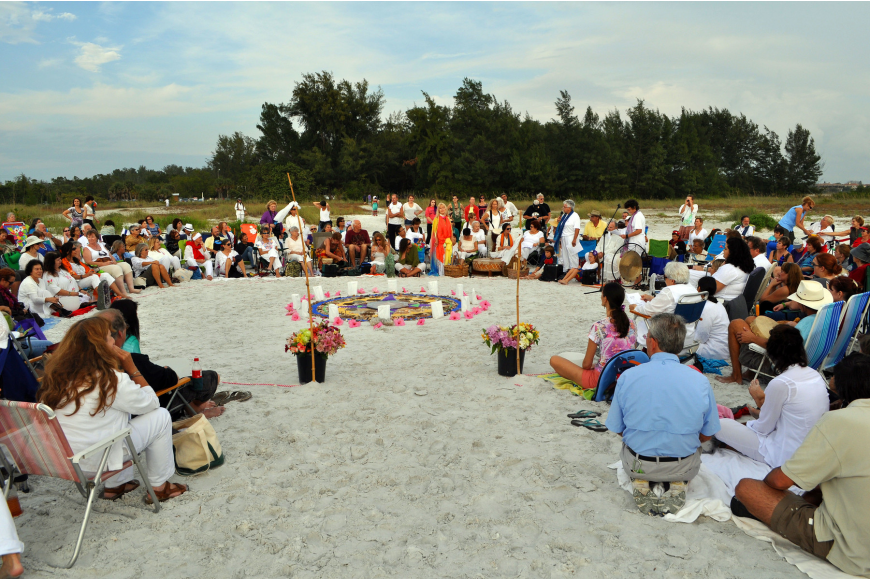 December 21 – Full Moon – Winter Solstice at South Lido Beach State Park 4:30 pm.
The Winter Solstice ceremony is held at South Lido Beach State Park on Wednesday, December 21 at 4:30 pm.  The event is marked by ceremonial drumming, singing and meditation with international teacher Patricia Walsh.  On the longest night, candles will be lit to coincide with the setting sun and lanterns released into the sky.  Men, women and well-behaved children are welcome to attend.  Bring lawn chairs, blankets, battery operated candles and flashlights.  A donation on behalf of the Mayor's Feed the Hungry Program will be collected. Tax deductible checks should be made payable to the Mayor's Feed The Hungry Program.  For more info contact Jo Mooy 941-355-1414 or jomooy@gmail.com
Doors open at 6:30 for fellowship. Doors close at 7 pm when the meditation starts. 
All women are invited to attend the Women's Meditation Circle offered twice a month on the Friday evenings closest to the New Moon and Full Moons. Starting it's 10th Year Anniversary, the meditations are offered for the harmony and raising of human consciousness.
Meditations are varied and include guided visualization, Kirtan chanting, Sound with Gongs or Crystal Bowls, Drumming and Silence. An experienced leader is chosen to lead each gathering. Each woman brings her unique practices along with rich perspectives to the group.
DONATIONS: Rising Tide is the "home" of the Women's Meditation Circle. It is due to the commitment and generosity of the center that we are able to use it on Friday evenings. A donation of $10 is suggested – more if you can, less if you can't. All donations are tax deductible. Checks can be made payable to Rising Tide.
The Women's Meditation Circle meets on the New and Full Moons at Rising Tide, 5102 Swift Road, for a guided meditation led by a senior member of the community. For more info contact Jo Mooy 941-355- 1414 or jomooy@gmail.com
Related Events