Winter Solstice Dances of Universal Peace ~ Rebirth of the Light
12/21/2019 @ 7:30 pm

-

9:30 pm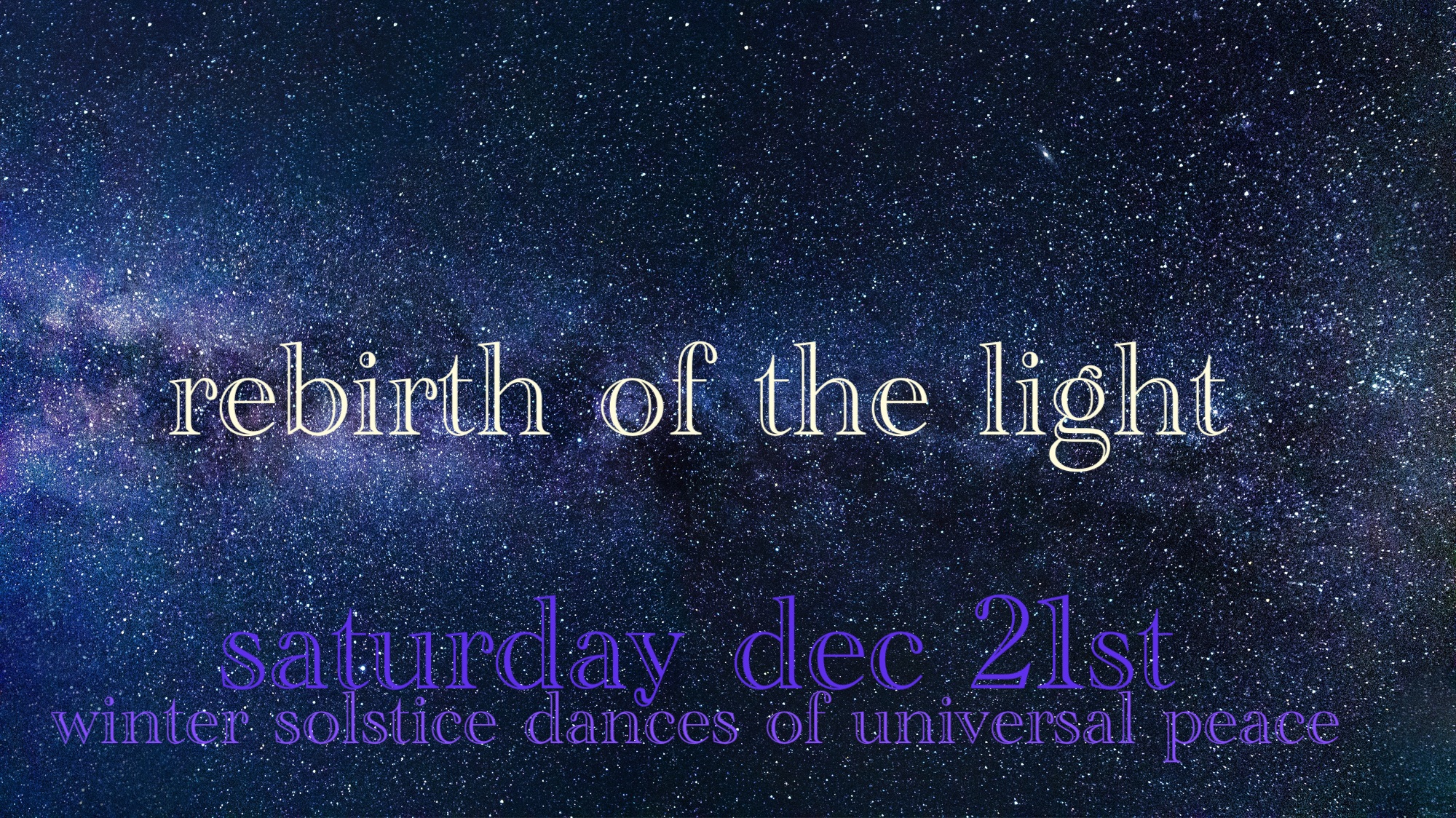 winter solstice
dance of universal peace
saturday dec 21st
7:30-9:30pm
What is being nurtured in the fertile darkness,

What stars are guiding us in the longest of nights,

What rebirth do we hope for inwardly?
To mimic the rebirth of the light, we'll
~ dance ~ in ~ the ~ dark ~
Slowly bringing back light into our circle
Join Maitreya
Jon Stevens
(guitar, dances),
Jessica Bromby
(dances),
Keith S Coker
(flute),
Pamela Fetterman
(percussion),
Lilly Ananda
(violin),
Sura Charlier
(wind instruments), and Akbar Chris Miller (dances) at
Rising Tide International
for a Night dancing the Divine Essence into our cells, hearts, minds, community, and the world!
Dances of Universal Peace — spiritual embodiment practices to feel a natural state of at-one-ment which is pure joy and connection in the heart.
Sacred sound is invoked to reverberate our prayers into the depths of our beings..
Chants, prayers, and songs from the world's spiritual and religious traditions call upon the Divine to help us remember, re-intentionalize, re-vision, and become re-connected & experiencing our interrelation with all…
Music, song, and harmony help our spirits rise …
Simple evocative movements in a group help us transcend our singular-ness into the interconnected-ness while moving energy/qi/light through our beings to un-block awaken and integrate that which we invoke into our beings.
The solstice is the return of the Light — celebrated in many world traditions, Christmas, Hannukah, and we'll bring this energy to help us all turn the corner as the days start to lengthen — what is being nurtured in the fertile darkness, what stars are guiding us in the longest of nights, what rebirth do we hope for inwardly?
Bring desserts to share!
Suggested donation, $10, pay what you can!
Information: jessicabromby@gmail.com
Biography
Maitreya Jon Stevens is a Mentor for the Dances of Universal Peace, a Guide in the Ruhaniat Order, and a member of the Ruhaniat Youth Council. He has offered Dance workshops around the world, and his dances travel the world and can be heard on his CD Almighty Peace (on sale at the bookstore).
Jessica Bromby travels the path of the Heart and expresses that through heart-felt songs, zikrs, dances, healing work. She also offers Women's Retreats, nature classes, and kids, teen, and young adult programs. She is a Coordinator in the Inayati Order, a Shefayat Candidate in the Sufi Healing Order, as a Certified Dance Leader in the Dances of Universal Peace, and as a Cheraga in the Universal Worship.
Akbar Chris Miller is an Inayati Order Coordinator, Chair of the Inayati Young Adult Council, a Cherag, Healing Conductor, and longtime advocate for our Sacred Planet and fellow beings. He offers meditation, the Dances of Universal Peace, Zikr, and Sufi practice, and facilitates Young Adult and Teen programs at Rising Tide & many US Sufi camps.
Details
Date:

12/21/2019

Time:

7:30 pm - 9:30 pm

Event Categories:
Venue
5102 Swift Rd.




Sarasota

,

FL

34231

United States

Phone:

941-923-7834
Organizer
Phone:

(941) 993-9994

Email:

chris@risingtideinternational.org
Related Events
August 8 @ 7:00 pm

-

8:30 pm

September 24 @ 6:30 pm

-

8:30 pm

November 5 @ 6:30 pm

-

8:00 pm
Navigation